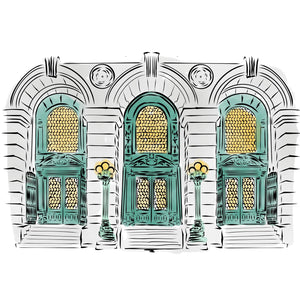 JenScribblesNY
City Hall NYC
Regular price
$50.00
$0.00
Unit price
per
Elevate your space with this exquisite illustration of City Hall, a symbol of civic pride and architectural grandeur. Every meticulous detail and nuanced stroke captures the essence of this iconic landmark, paying homage to its enduring legacy.
Reasons to Buy:
Architectural Splendor: Whether you're captivated by the elegance of City Hall or appreciate its historical significance, this illustration celebrates the timeless beauty of this civic masterpiece.

Memorable Wedding Gift: Commemorate the union of two souls with a gift that embodies the enduring strength and beauty of their partnership. City Hall, a place where countless unions have been celebrated, serves as a poignant reminder of their own special day.

Artistic Mastery: Crafted with precision and a deep appreciation for urban aesthetics, this illustration is a testament to the artist's dedication in bringing the essence of City Hall to life.

Conversational Centerpiece: Displaying this piece in their home will undoubtedly spark conversations about architecture, civic pride, and the cultural importance of City Hall.

Support Independent Artists: By adding this illustration to your collection, you're directly supporting an independent artist and encouraging the creation of more unique and meaningful artwork.

Timeless Décor: Its blend of classic elegance and modern appeal ensures it will seamlessly complement a range of interior styles, making it a versatile addition to any space
110lb. card stock, smooth finish
*Frame not included. Final sale. No returns or refunds.
Not affiliated with restaurant/establishment.
Takes about 2 weeks to receive.
---